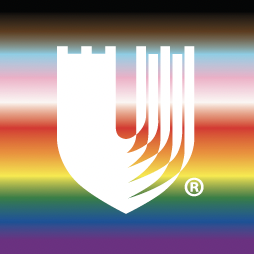 The Duke Pride branding was created to support and affirm our Duke LGBTQ+ community members, patients, students, faculty, and staff. This branding upholds and aligns with Duke's values of respect, trust, inclusion, discovery, and excellence. As a part of living our values and culture, this branding is intended to support all of those who consider themselves members of the LGBTQ+ community, as well as allies of the LGBTQ+ community.
As an individual's identity and experience as LGBTQ+ may not be not outwardly visible to others, this symbol sends an important signal of support, and demonstrates our commitment to respect and inclusion. We encourage the use of this branding at Duke-sanctioned LGBTQ+ focused conferences, events, and to support our recruitment efforts. We also encourage its use in Duke Health workplaces, learning, and patient-care environments. Materials with this branding may be especially useful to provide to those who have completed training on LGBTQ+ affirming topics in teaching and healthcare, as well as for those who have chosen to be a part of the Duke Health OutList.
Examples of materials that use the Duke Pride branding include:
Giveaway items for LGBTQ+ Pride events
Materials developed based on the Fenway Institute's Duke curriculum to help train staff on inclusivity
LGBTQ+ conference collateral
Patient education materials for Duke's Adult Gender Medicine Clinic, or Child and Adolescent Gender Care Clinic
The branding can be used on a white or Duke Blue background, and placed on marketing collateral, apparel, event display or giveaway items. The branding can be paired with the Duke Health logo and other approved entity or service line logos. The branding includes the Duke Pride shield, and a Pride logo that incorporates the shield and the statement, "We take Pride in your health."