A recommended application of the Duke Pride branding is to use the shield in the top right corner of your collateral, with the Duke Pride logo on the reverse side. This is also an easy way to incorporate a Duke approved logo on the front of your piece, while using the Duke Pride logo on the back.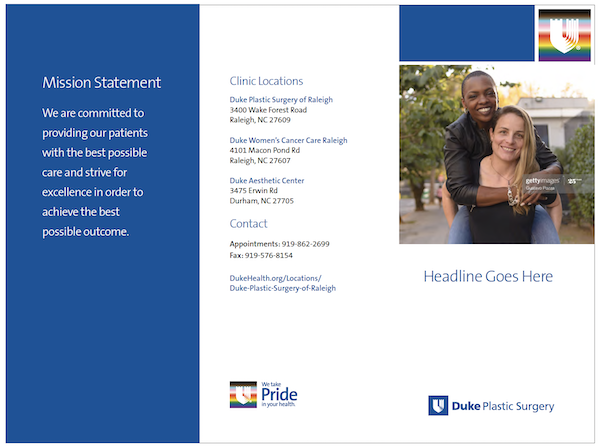 The Duke Pride shield should always incorporate the official colors of the Philadelphia version of the Pride flag, which includes the black and brown stripes to uplift the voices and experiences of the BIPOC LGBTQ+ community.
Templates are being developed on the Duke Health Brand Center to help you apply the Duke Pride branding. If you have a need for collateral outside of the templates, please contact us.
The Duke Pride branding should not be cobranded with another organization's branding on any materials. If the content is developed through or in part by another organization, the materials can feature the organization's logo on a Duke Health branded piece with a qualifying line that states the relationship between Duke Health and the organization. The logo should be spaced adequately apart from the Duke Health logo, and be no larger than the Duke Health logo.
Internal Usage of the Duke Pride Branding
Duke Health employees can demonstrate their allyship and support of the LGBTQ+ community internally through email signatures and Zoom backgrounds featuring the tagline, "We take Pride in each other."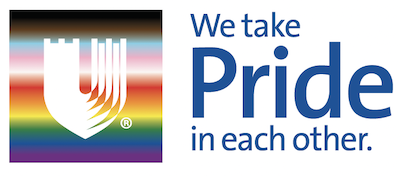 The tagline differs slightly from the main Duke Pride branding tagline, "We take Pride in your health." With the affirming statement, "We take Pride in each other," Duke Health staff can demonstrate support of their LGBTQ+ colleagues.