The world was already becoming more virtual, and the pandemic only accelerated the pace. Duke Health expanded telehealth options, but we aren't stopping there. We will continue to develop and bring to market cutting-edge digital options that supplement our physical locations. Together, we will create cutting-edge digital health services that are customized, convenient, high quality, and accessible to all.
---
How we define success:
Leading in patient-centered care and convenience
Optimizing site of care and creating additional clinical capacity
Serving patients in broader geographies; in their communities and on their schedule
   Watch a Video About Forging Our Digital Future
   Stories About Forging Our Digital Future
Parkinson's disease, which afflicts one million Americans, causes both unwanted movements, such as hand tremors, as well as difficulty in initiating movements, such as taking a step. These symptoms interfere with the ability to do many everyday activities most people take for granted.
Medicines help, but lose their power as the disease progresses.
Another, newer option is deep brain stimulation, in which small pulses of electricity are delivered to the brain using an implanted electrode. If the implantation is successful, a patient's motor symptoms can be reduced significantly.
---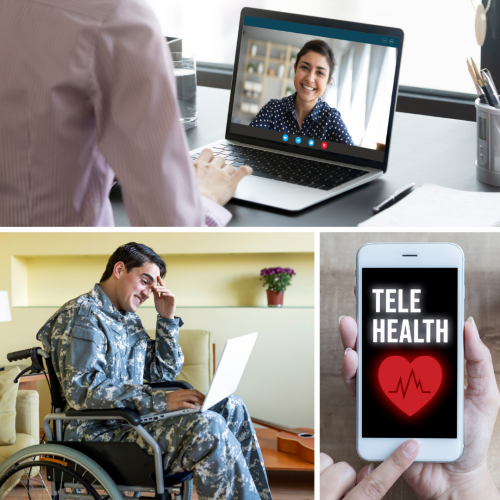 Master of Science in Nursing (MSN) students have been able to expand their skill set and stay on track in light of the pandemic due to a mass adaptation of telehealth.
MSN students in the Psychiatric - Mental Health Nurse Practitioner (PMHNP) Program typically complete their clinical requirements in traditional patient care settings. When COVID-19 happened, restrictions created by the pandemic proved potentially problematic. However, the pandemic didn't hinder these students' progress due to the quick response from sites such as the Cohen Veterans Network (CVN), a key partner of the PMHNP program, who promptly shifted their services to an online platform. CVN primarily provides mental health care to post-9/11 veterans and their families, regardless of the veterans' role in the service, discharge status, or combat experience.
---
​Virtual huddles are empowering team members and improving the care provided by Duke HomeCare & Hospice (DHCH).
These daily, 15-minute check-ins allow frontline staff to voice concerns about actual harm events or potential risk to patients, visitors and colleagues, thereby allowing the issue to be addressed using their real time problem-solving methodology.
"This empowers them to use their voice for change in areas that directly impact their practice," said Benita Pope, PhD, MHA, BSN, NE-BC, director of hospice services for DHCH. "It's a journey we're taking together using the strengths of individuals to build a team approach."
---
In order to provide the best possible clinical care, Duke Health team members recognized the need to connect with patients and the community directly. So in June, the Digital Strategy Office launched Duke Health Listens – a virtual advisory council. The council has already attracted the commitment of more than 2,700 patients and community members and can have up to 3000 members.
"We have seen people becoming more comfortable with virtual activities both inside and outside of healthcare," said Jennifer Maddocks of the Duke Digital Strategy Office. "We really want to connect with our patients and community members to gain their feedback on what's working well and more importantly where we can improve."
---
For Marilyn Moore, 83, the news of another pneumonia diagnosis left her dreading her next hospital admission. That is until physicians providing Moore care in the Duke Raleigh Hospital Emergency Department approached Moore with an alternative.
Moore could be admitted into the Duke Raleigh Acute Hospital Care at Home Program.
---
Duke Health's new app for mobile devices lets you manage your health care and provides educational resources so you can stay proactive with your wellness. My Duke Health provides a tailored, Duke-specific experience for your online health care interactions.
Use the mobile app to view wait times at nearby clinics, access Duke Virtual Urgent Care, sign up for wellness classes, find cancer or weight loss support groups, and more.