Monday, March 8, 2021 by Morag MacLachlan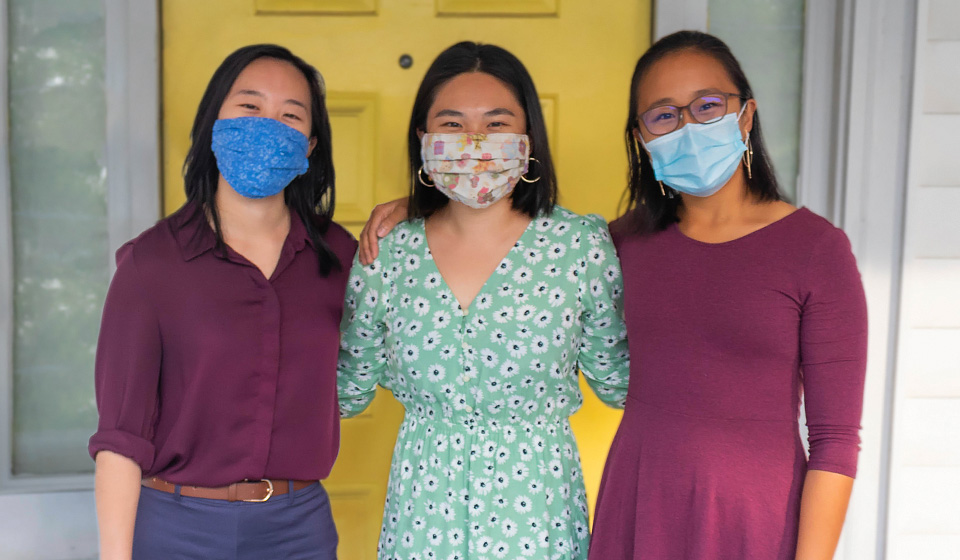 Duke Chapel's PathWays Fellows Grace Feng, Karissa Tu and Junette Yu helped match residents with resources.
Thousands of people have been able to safely stay at home and still have their basic needs met thanks to a partnership between the state, community-based organizations and Duke.

The N.C. Department of Health and Human Services awarded the Duke University Health System (DUHS) one of four contracts as part of the COVID-19 Support Services Program. The initiative provided resources to residents who had been asked to stay home while they await a COVID test result, because they tested positive or if they were at high-risk for contracting the virus. Community health workers connected with residents to see what type of support they needed, ranging from food, personal protective equipment, medication delivery, transportation and relief payments. DUHS partnered with community-based organizations to provide the services.

"While DUHS provided the administrative infrastructure for this initiative and dispersed more than $2.2 million in relief payments to households, the 16 community-based organizations we partnered with to deliver the support services were the key to the program's success," said Michelle Lyn, MBA, MHA, assistant professor and chief, Division of Community Health, Department of Family Medicine and Community Health. "This initiative was highly intentional on the part of DUHS to work with the communities we serve and invest in trusted community-based organizations to address social drivers of health."

The program launched in September in three counties and has since expanded to seven, reaching communities experiencing the highest burden of COVID-19. Since September, more than 5,000 households that would not have been able to isolate/quarantine without support have received services. 

"In addition to the relief payments, the initiative provided more than 60,000 meals, 12,000 food boxes – for many families the payment and services prevented them from falling into severe poverty that would leave little chance for recovery," said Fred Johnson, MBA, vice chief, Division of Community Health and Medicaid director, DUHS Population Health Management Office.

Many teams at Duke were responsible for the program being able to meet residents' needs. Lyn credits coworkers within the Division of Community Health as well as finance, procurement and the Population Health Management Office. Joining their efforts were numerous medical student volunteers as well as Grace Feng, Karissa Tu and Junette Yu, three recent Duke graduates  participating in Duke Chapel's PathWays Fellowship and interning with the Division of Community Health.

"I found it rewarding to work with diverse community-based organizations to build capacity to respond to residents' emergency needs," Yu said.

Tu agrees, saying the experience has taught her the importance of clear communication to ensure the "community-based organizations can do their best work." Feng said she's honed her problem-solving skills.

"I've learned to resolve any obstacles we encounter, keeping in mind the client will suffer if we don't find a resolution," Feng said. "This has been one of the most salient and tangible projects I've worked on."​​