Paula T. Cates, MSN, RN, NE-BC
Associate Chief Nursing Officer, Duke Regional Hospital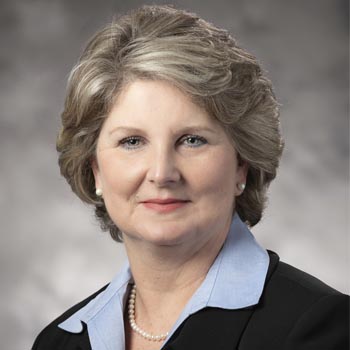 Paula T. Cates, MSN, RN, NE-BC, currently serves as associate chief nursing officer for Duke Regional Hospital. She leads nursing practice in perioperative services, cardiology, women's services and the emergency department. She also participates in hospital projects to improve overall patient safety, efficiency and work culture. 

Cates is an enthusiastic, highly motivated executive nurse leader with 36 years of experience. Her nursing career began at Duke University Hospital caring for cardiothoracic surgical patients. The vast majority of her career has been in perioperative nursing. She has experience with strategic planning, outcomes management, oversight of clinical practice standards and change management. Navigating systems within organizations to facilitate improvements consistent with their mission and values have been hallmarks of her career.

Cates holds a Master of Science degree in Nursing from Duke University and a Bachelor of Science degree from Winston-Salem State University. She began her nursing education at Watts School of Nursing and received her diploma in 1984. 

She is a member of the American Organization for Nursing Leadership, American Nurses Association, American Society of PeriAnesthesia Nurses and the North Carolina Association of PeriAnesthesia Nurses. She is certified as a Nurse Executive, NE-BC, by the American Nurses Credentialing Center. She was named a North Carolina Great 100 nurse nominee in 2019, a member of Sigma Theta Tau International Honor Society in 2016, a recipient of the North Carolina Nurses Association's Hallmarks of Healthy Workplaces Recognition, Duke University and Duke University Health System Blue Ribbon Award for teamwork, and a recipient of the Duke Friends of Nursing Excellence Award. 

Cates has participated in community service through the council of Senior Health Support of the Triangle from 2010-2015. At Ridgecrest Baptist Church, she served as the Medical Response Coordinator from 2006-2011. She is one of two daughters of the late George and Hazel Talbott. She is married to David Cates and has two adult sons, Andrew and Will.