John H. Sampson, MD, PhD, MBA
Senior Vice President, Duke University Health System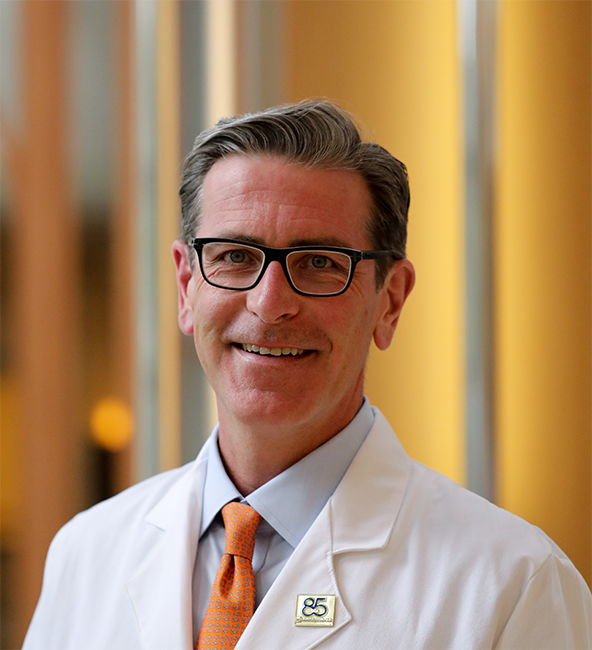 John H. Sampson, MD, PhD, MBA, is the Robert H. and Gloria Wilkins Distinguished Professor of Neurosurgery and Senior Vice President of Duke University Health System and head of the Duke Health Integrated Practice (DHIP). Dr. Sampson was most recently the President of the Private Diagnostic Clinic (PDC), one of the largest multi-specialty physician groups in the country with 1,850 physicians and additional provider members practicing in Duke University hospitals and more than 140 primary and specialty clinics across North Carolina. Under Dr. Sampson's leadership, the PDC was integrated into the Duke Health enterprise as DHIP with Dr. Sampson as the inaugural leader of the Practice. He is an inspirational leader, educator, scientist and clinician.
Dr. Sampson is a neurosurgeon and researcher who is passionate about treating patients with brain tumors and other diseases of the nervous system and spine. He is a recognized leader in neurosurgery. As the Inaugural Chair of the Department of Neurosurgery at Duke, Dr. Sampson demonstrated his visionary leadership and commitment to innovation and excellence. He supported the development of programs such as the Surgical Autonomy Program and the Resident Mentorship, Leadership and Coaching program, which led to improved resident surgical training and education skills; the development of a Global Neurosurgery Program that provided care and established educational programs in Uganda; the Neuro-innovations Program that provides education for students and trainees at all levels on entrepreneurial activities in the medical sciences; and executed on a strategic initiative to develop a wellness app, WellSpentMD that addresses burnout by providing physicians with mental health and wellness resources.
Dr. Sampson earned his medical degree from the University of Manitoba in Winnipeg, and then went on to pursue his PhD in neuropathology and MHSc in clinical research at Duke University. He did his research training under the internationally renowned scientist, Darell D. Bigner, and Nobel Laureate Gertrude Elion. Recognizing the need for additional health sector management and leadership training, he completed an MBA with Duke University's Fuqua School of Business where he became a Fuqua Scholar.
He has authored nearly 300 peer-reviewed publications. Dr. Sampson is a member of the prestigious National Academy of Medicine as well as the Association of American Physicians.
In his commitment to patients and our communities, he demonstrates great innovation, creativity, excellence and dedication to the mission and values of Duke Health.