Chancellor's Leadership Team
Group President, Acute Care, and Sr. Vice President, DUHS and President, Duke University Hospital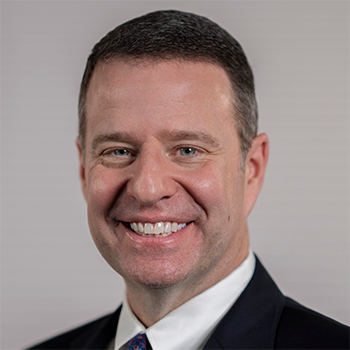 Thomas Owens, MD, is the Group President, Acute Care, and Senior Vice President for Duke University Health System, President of Duke University Hospital, and an Associate Professor of Medicine and Pediatrics at the Duke University School of Medicine.
As Group President, Acute Care, Owens oversees operations and strategic priorities across Duke Regional, Duke Raleigh and Duke University Hospitals and medical affairs throughout Duke's network of hospitals, clinics and other evolving population health care settings. Owens' responsibilities include setting the health system quality agenda, and ensuring alignment of physicians and physician services with health system strategic plans and clinical programs. He directly manages Duke Health System employed faculty physicians, Duke Primary Care, Duke HomeCare and Hospice, Graduate Medical Education programs, population health management programs, and payer value based contracts through Duke Connected Care.

In 2013, Duke University Health System launched a transformative program to address the changing needs of patients in an evolving health care landscape. As Vice President for Medical Affairs, Owens has led the clinical operations programs and care redesign efforts of this extensive project. To date, teams have completed the redesign and implementation of new delivery programs in 19 disease areas across Duke Medicine.

Owens has held a number of increasingly significant medical leadership positions within the health system over the past 10 years, previously holding the position of Chief Medical Officer for Duke University Hospital and Chief of the Duke Health System Hospital Medicine Program.

He received his MD with honors from the University at Buffalo School of Medicine & Biomedical Sciences in 1995. Owens completed his Internal Medicine and Pediatrics internship and residency in 1999, followed by a General Internal Medicine fellowship in 2000 and subsequent Chief Resident year in 2001, all at Duke University Medical Center. Owens has received numerous awards and honors including the Eugene A. Stead, Jr. Award for Outstanding Teaching Faculty (2004, 2008), Samuel L. Katz Faculty Award for Excellence in Teaching (2002) and the Duke University Presidential Award for Executive Leadership (2006).
Chancellor's Leadership Team