Mary Martin, BA, MPH, FACHE
Interim President and Chief Operating Officer, Duke University Hospital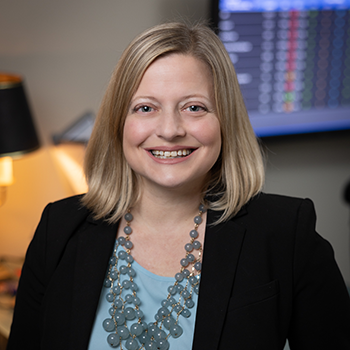 Mary Martin is the Interim President and Chief Operating Officer for Duke University Hospital. In her dual role as Interim President and COO, she and her senior leadership team oversee Duke University Hospital, a 1000+ bed (adult and pediatric), quaternary care, Level 1 trauma and academic medical center with more than 15,000 employees.
Throughout her career, Mary has been known for leading teams in project efficiencies, capacity management, and process improvement including Lean implementation. In her role as interim president, Mary leads the hospital's senior leadership team in key priorities such as employee engagement and retention, utilization and efficiencies, reduction of workplace violence, and clinical quality and safety.
As COO, Mary has served as incident commander of Duke University Hospital's COVID response, maintained services with zero layoffs during the pandemic and activated a new patient tower a year ahead of schedule. Mary also led teams to implement the CARE Hub, a world-class patient flow and transfer center to facilitate movement of patients between the three Duke hospitals and from outside hospitals.
Before coming to Duke in 2019, Mary held increasing leadership positions in University Hospital, a 600-bed hospital within Michigan Medicine/University of Michigan Health System in Ann Arbor, Mich. She served as Associate Hospital Director for major clinical services and operational areas that include: Surgical Services, Physical Medicine & Rehabilitation and Psychiatry; Operations and Clinical Services. Mary previously served as director of Lean Performance Improvement and a member of the Mayor's Cabinet for the City of Detroit, and in senior leadership roles with Detroit Medical Center.
Mary completed her undergraduate degree with a Bachelor of Arts in International Relations, with a related area of study in French, from James Madison College at Michigan State University. She earned a Master of Public Administration from Rackham Graduate School at The University of Michigan-Dearborn.