Chancellor's Leadership Team
Chief Marketing and Communications Officer and Vice President, Duke University Health System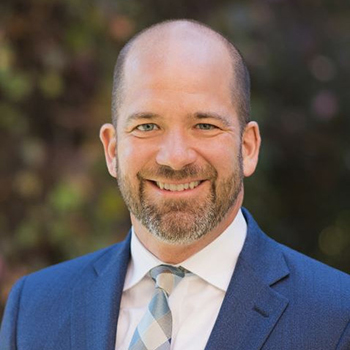 Rob Odom is the Chief Marketing and Communications Officer and Vice President for Duke University Health System.
Prior to joining Duke, Odom served as Vice President of Marketing and Brand Management at the University of California San Francisco (UCSF) Health. A visionary and results-oriented leader, he led the UCSF Health brand in achieving significant market recognition in the Greater San Francisco Bay Area. His innovative prowess and pioneering leadership resulted in an impressive Emmy award-winning partnership with CBS Eye on Health. Greatly respected for his collaborative leadership style, Odom is known for building and bridging teams across large complex organizations, promoting partnership and improving performance. Under his leadership, digital marketing and social media initiatives have led to remarkable measurable results, increasing brand awareness and preference for the health system.
Odom has more than 25 years of experience leading marketing and communications functions, predominantly in the healthcare sector. Prior to UCSF Health, he held leadership positions at Kaiser Permanente, Inc. in Portland Oregon, where he served as Director, Marketing and Public Relations, and at Providence Health & Services (also in Portland), where he served as Senior Communications Consultant and Marketing Manager.
A Duke graduate, earning a B.A. in English, Odom is happy to return to Duke and contribute to his alma mater. He also holds an M.A. in English from Cornell University.
Chancellor's Leadership Team