Gloria Alston McNeil, DNP, MA, MBA, RN
Associate Chief Nursing Officer, Duke Regional Hospital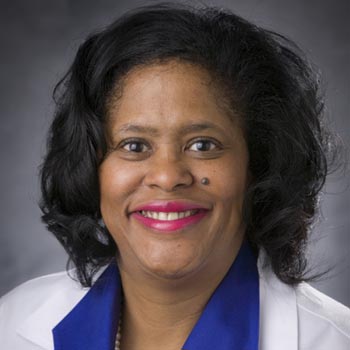 Gloria Alston McNeil, DNP, MA, MBA, RN, NE-BC, NEA-BC, CENP, currently serves as associate chief nursing officer at Duke Regional Hospital, where she is responsible for nursing care within the hospital's critical care, general medicine, rehabilitation, general surgery and behavioral health units. In addition, she provides leadership for hospital initiatives focused on accreditation, education services, operation administration, nursing informatics and the Magnet Recognition Program.

McNeil is an executive nurse leader with more than 35 years of nursing leadership experience. She began her nursing career providing care for patients who had undergone orthopedic and neuro-surgical procedures. She has held several leadership positions in many areas within nursing, led multiple initiatives and served on multiple committees and projects throughout her career.

McNeil holds a Doctorate of Nursing Practice from Duke University, a Post-Doctorate Certificate as a Quality Implementation Scholar, a Master's of Business Administration from Pfeiffer University, a Master's in Agency Counseling and a Bachelor of Science degree in Nursing from North Carolina Central University (NCCU). She is a 2011 Amy V. Cockcroft Fellow and completed the Wharton Nursing Leaders Program in 2016. She is certified as a Nurse Executive – Advanced by American Nurses Credentialing Center (ANCC) and certified in Executive Nursing Practice by the American Organization for Nursing Leadership.

She has been recognized for her nursing leadership contributions by Great 100 Nurses of North Carolina, YWCA, National Council of Negro Women, Central Carolina Black Nurses Council, Pi Chapter of Chi Eta Phi Sorority and the North Carolina Nurses Association for mentorship in nursing. She also has been named NCCU's Distinguished Nursing Alumnus and received the Duke University Friends of Nursing Award for Excellence in Nursing Leadership.

McNeil is a member of Sigma Theta Tau, the NCCU Honor Society, NCCU Nursing Alumni Association, Life Member of the NCCU Alumni Association, the American Organization for Nursing Leadership, American Nurses Association and the North Carolina Nurses Association (NCNA), where she has served on the Board of Directors. She has also served on nursing advisory committees for NCCU, Durham Technical Community College and Piedmont Community College. She was inducted into the Chi Eta Phi Nursing Sorority in 1989. She continues to support NCCU by serving on the Nursing Advisory Board and as guest lecturer for senior nursing students. She serves as preceptor for DNP students at Walden University, UNC-Charlotte, UNC-Greensboro and Grand Canyon University.

McNeil has served as a NCNA Hallmark Reviewer, ANCC Magnet conference poster/podium reviewer, and currently on a Great 100 Selection Committee, the Manning Award selections committee and is a trained national Malcolm Baldrige examiner.

She is active in the Durham community and provides community service through her involvement as a board member on Project Access, for the Delta Sigma Theta Sorority Durham Alumnae Chapter, where she is the past president and current parliamentarian; and member of the Triangle Park Chapter of the Links, Inc. as financial secretary. McNeil has previously served as board member for Women in Action, the St. Joseph Historic Foundation, BUMP: The Triangle, the Southside community, and Meals on Wheels Durham.

She is one of five siblings of the late William and Gennie Alston and married to Robert McNeil. They have two adult daughters, Ashley and April; one granddaughter, Greysen; and two grandsons, Christian and Alston.